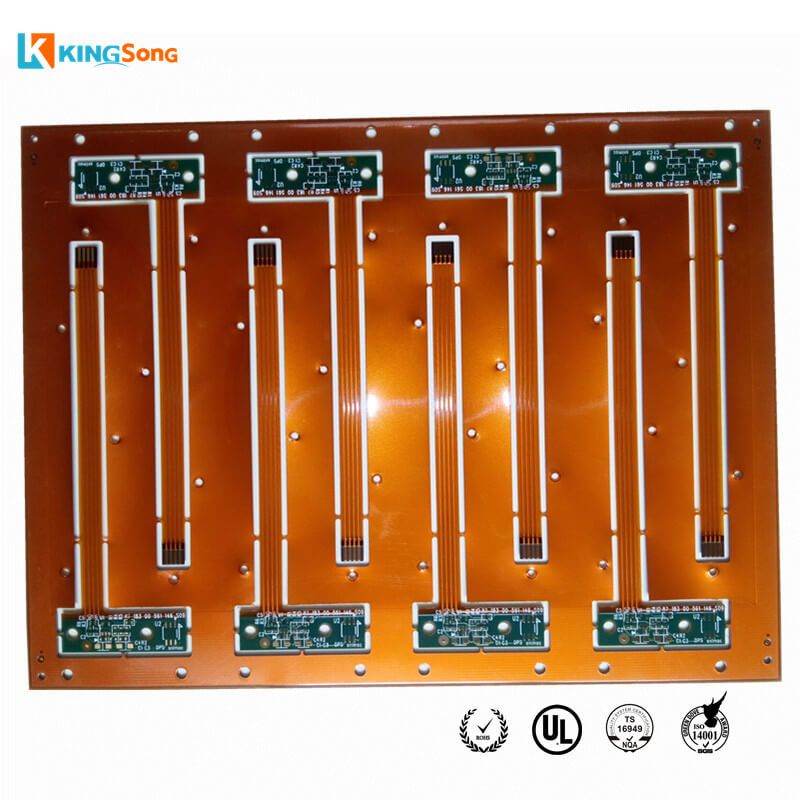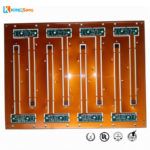 China Rigid-Flex PCBs Flexible Printed Circuit Boards
Min. Order Quantity: NO
Supply Ability: 30~50 thousand ㎡/Month
Service: EMS/OEM/ODM
Payment Terms: T/T, Paypal, WU, etc.
Port: Shenzhen
With more than 10 years of PCB manufacturing experience, KingSong provides high-reliability products and provides our customers with high-value, high-quality, and guaranteed quality production services.
China Rigid-Flex PCBs Flexible Printed Circuit Boards
Brand Name
KingSong/Customized
Layer
4
Material
CCL, PI, PET, PEN, FR-4
Base Material
FR4 + Polyimide
Solder mask color
Green & yellow cover film
Silkscreen color
White
Final Thickness
Flex board: 0.002″ – 0.1″ (0.05-2.5mm)
Flex-rigid board: 0.0024″ – 0.16″ (0.06-4.0mm)
Surface Treatment
Lead-free: ENG Gold; OSP, Immersion silver, Immersion Tin
Surface Finishing
Immersion Gold
Test Way
100% E-Test
Standard
IPC-Class2
Min Trace
Inner: 0.5oz: 4/4mil Outer: 1/3oz-0.5oz: 4/4mil
Min Width /Clearance
1oz: 5/5mil 1oz: 5/5mil
2oz: 5/7mil 2oz: 5/7mil
Min Hole Ring
Inner: 0.5oz: 4mil 1oz: 5/5mil 2oz: 5/7mil
Outer: 1/3oz-0.5oz: 4mil 1oz: 5/5mil 2oz: 5/7mil
Copper Thickness
1oz
Board Thickness
0.5mm
Max / Min Insulation Thickness
2mil/0.5mil (50μm/12.7μm)
Min Hole Size and Tolerance
Min hole: 8mil
Tolerance: PTH±3mil, NPTH±2mil
Min Slot
24mil x 35mil (0.6×0.9mm)
Solder Mask Alignment Tolerance
±3mil
Silkscreen Alignment Tolerance
±6mil
Silkscreen Line Width
5mil
Gold Plating
Nickel: 100μ" – 200μ" Gold: 1μ"-5μ"
Immersion Nickel / Gold
Nickel: 100μ" – 200μ" Gold: 1μ"-5μ"
OSP
Film: 8μ" – 20μ"
Test Voltage
Testing Fixture: 50-300V
Profile Tolerance of Punch
Accurate mould: ±2mil
Ordinary mould: ±4mil
Knife mould: ±8mil
Hand-Cut: ±15mil
Delivery time:
Flexible PCB: 5-7 working days,
Rigid-flex PCB: 8-15 working days.
Package:
The inner vacuum packing, Outer standard carton box packing.
Shipping:
1. By DHL, UPS, FedEx, TNT, etc.
2. By sea for mass quantity according to the customer's requirement.
If you need a quotation for your PCB projects, please provide the following info:
1. Quote, quantity.
2. Gerber file in a 274-x format.
3. Technical requirement or parameters (material, layer, copper thickness, board thickness, surface finishing, solder mask/silkscreen color…).
The advantages of Rigid Flexible Printed Circuit Board FPCB:
1. Flexural flexibility can change the shape according to the space limit.
2. High-temperature resistance and fire resistance.
3. Folding without affecting signal transmission function.
4. Prevent static.
5. A chemical change is stable, stable, and reliable.
6. Facilitate the design of related Rigid-flex Pcb products, reduce the working hours and errors, and improve the service life of related products.
7. Reduce the volume of application China Rigid-flex PCB Manufacturers and Suppliers products, reduce the weight greatly, increase the function, and reduce the cost.
Don't know enough?
Welcome to contact us And Start Your Business Now!
Address
Shentengyao Building, Fuhai, Shenzhen 518103 China