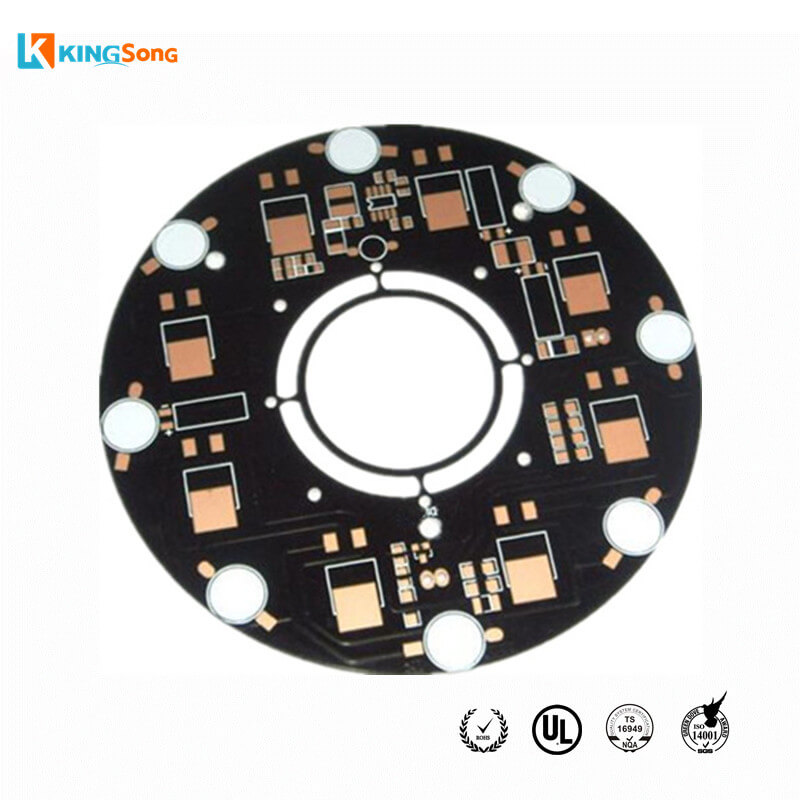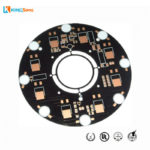 China Customized OSP Surface Finish MCPCB Metal Based PCB Factory
Layer: 1
Base Material: Aluminum
Copper Thickness: 1oz
Board Thickness: 1.6mm
Surface Finishing: OSP

Min. Order Quantity: NO
Supply Ability: 30~50thousand ㎡/Month
Service: EMS/OEM/ODM
Payment Terms: T/T, Paypal, WU, etc.
Port: Shenzhen
With more than 10 years of PCB manufacturing experience, KingSong provides high-reliability products and provides our customers with high-value, high-quality, and guaranteed quality production services.
MC PCB (you also can call it Metal Core PCB, Aluminum PCB, Metal-Based PCB) is a kind of PCB board with metal base material instead of woven glass FR4, FR3, or others. There is a single-sided, double-sided, and multilayer board. The most of MC PCB Manufacturers are commonly used metal core material is aluminum, copper, and alloy. Aluminum Based PCB is the most frequently used among them due to its good heat transfer ability, dissipation ability and relatively cheaper costs than copper, even which may have better performance, we are high thermal conductivity PCB suppliers in china and Chinese Customized OSP Surface Finish MCPCB Metal Based PCB Factory.
Metal-Based PCB is used to replace traditional FR4 or CEM3 PCBs because of the ability to efficiently dissipate heat away from the components. This is achieved by using a thermally conductive dielectric layer.
Metal Core PCB (MC PCB) feature:
Effective treatment of thermal diffusion in PCB circuit design.
Reduce operating temperature, increase power density and reliability, extend the life of the product.
Smaller footprint, lower hardware, and assembly costs.
Replace the fragile ceramic substrates PCB with better mechanical durability.
Detail Metal Core PCB Capabilities:
Item
Description
Layers
1-2 Layers
Final Thickness
0.02″-0.18″ (0.5mm-4.6mm)
Surface Treatment
HAL, HASL-Lead Free, ENIG, OSP, Immersion silver
Max/Min Board Size
Min: 0.2″×0.2″
Max: 43.3″×19″
Min Trace width/Min Clearance
0.5oz: 4/4mil
1oz: 5/5mil
2oz: 5/7mil
3oz: 7/8mil
4oz: 10/10mil
Min Hole Ring
0.5oz: 4mil
1oz: 5mil
3oz: 10mil
4oz: 16mil
Copper Thickness
0.5oz-4oz
Min Hole Size and Tolerance
min hole: 30mil (Final Thickness 0.5mm-2.0mm)
45mil (Final Thickness 2.0mm-4.6mm)
Tolerance: PTH±4mil, NPTH±3mil
Thickness of Plating Layer
Nickel: 100μ"-200μ", Gold: 1μ"-5μ"
Solder Mask Color
Glossy: Green, Black, Red, Yellow, White, Purple, Blue
Matt: Green, Black
Silk Screen Color
White, Black
Silk Screen Size
Min Width: 5mil; Height: 24mil
Testing Voltage
Testing Fixture: 50-300V
Flying Probe: 30-250V
Profile
CNC Tol: ±5mil
V-CUT Tol: ±5mil
Slot Min: 40mil
Angel: 15°, 20°, 30°, 45°, 60°
Bow and Twist
≤1%
Thermal conductivity
Aluminum: 0.5~3w/m.k
Special Thermal conductivity
Alumina: 20~27w/m.k
Aluminium nitride: 180~220w/m.k
Sapphire: 27~30w/m.k
High Borosilicate Glass: 2~5 w/m.k
PCB lead time: (if you need urgent service, we also can meet)
| | | |
| --- | --- | --- |
| Description | Single Layer | Double Layer |
| Sample(WD) | 3-5 | 5-7 |
| Mass production(WD) | 5-7 | 7-9 |
Package:
The inner vacuum packing, Outer standard carton box packing.
Shipping:
1. By DHL, UPS, FedEx, TNT, etc.
2. By sea for mass quantity according to customer's requirement.
If  you need a quotation for your PCB projects, please provide the following info:
1. Quote, quantity.
2. Gerber file in a 274-x format.
3. Technical requirement or parameters (material, layer, copper thickness, board thickness, surface finishing, solder mask/silkscreen color…).
Don't know enough?
Welcome to contact us And Start Your Business Now!
Address
Shentengyao Building, Fuhai, Shenzhen 518103 China