Completed PCB Surface Treatment Process Guide
2022-10-08

Why is it necessary to process the surface of PCBs?
As copper in nature tends to exist as an oxide in the air, it is unlikely to remain as virgin copper for long and therefore other treatments are required. Oxidized copper can have multiple effects on soldering, such as the formation of fake solder, mis-soldering, or even the inability to solder pads to components. So to prevent this, PCB manufacturers add a special process when manufacturing – the surface of the pad is coated with other substances to protect the pad from oxidation.
The current mainstream PCB surface treatment process has six types
HASL (Hot Air Solder Leveling)
OSP (Organic Surface Protection)
ENIG (Electroless Nickel/Immersion Gold )
Immersion Silver
Immersion Tin
Gold Plating, etc.
Different surface treatment processes are used in different scenarios, so it is important to choose the most suitable and cost-effective one.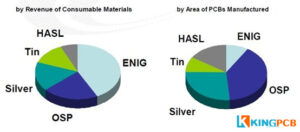 Bare Copper Board
Advantages
Low cost, flat surface, good solderability
Disadvantages
Easy to oxidize, cannot be used on double-sided boards, if there are test points, solder paste must be added to prevent oxidation, otherwise, the subsequent contact with the probe will not be good.
HASL (Hot Air Solder Level)
HASL is a process of coating the PCB surface with molten tin-lead solder and leveling it with heated compressed air to form a coating layer that is resistant to copper oxidation and provides good solderability. The hot air leveling process forms a copper-tin metal compound at the bond between the solder and the copper, which is approximately 1 to 2 mil thick.
Advantages
Lower price, better solderability
Disadvantages
Not suitable for soldering pins with small gaps or components that are too small, and the surface flatness of the solder plate is poor, which can easily cause solder beads in the process and short circuits to fine pitch components.
OSP (Organic Soldering Preservative)
This is a chemically grown layer of organic skin that acts as a barrier between copper, and air. This film is resistant to oxidation, thermal shock and humidity and protects the copper surface from further rusting (oxidation or sulfidation, etc.) in the normal environment; at the same time, it must be easily and quickly removed by the flux in the subsequent high soldering temperatures to facilitate soldering.
Advantages
Simple process, low cost
Disadvantages
Susceptible to acid and humidity, needs to be resurfaced after more than 3 months, OSP is an insulating layer, so test points must be stamped with solder paste to remove the original OSP layer in order to access the pinpoint for electrical testing.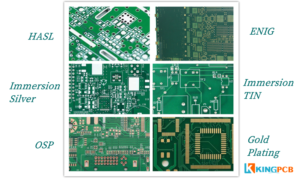 ENIG (Electroless Nickel Immersion Gold)
ENIG is a thick layer of electrically good nickel-gold alloy on a copper surface that protects the PCB for a long time and has good resistance to the environment.
Advantages
Not easily oxidized, flat surface, suitable for soldering fine gap pins and smaller components. First choice for PCBs with keys and can serve as a base material for COB (chip on board) marking.
Disadvantages
Higher cost and poorer solder strength. The nickel layer will oxidize over time and long-term reliability is an issue.
Immersion Silver
Between OSP and chemical nickel/immersion gold plating, is a displacement reaction and it is almost a sub-micron coating of pure silver.
Sometimes the silver immersion process also contains some organic matter, mainly to prevent silver corrosion and to eliminate silver migration problems.
Advantages
Relatively simple process, fast, good flatness and contact.
Disadvantages
Provides good electrical properties and maintains good solderability even when exposed to heat, humidity, and contamination, but loses luster. And because there is no nickel under the silver layer, immersion silver does not have all the good physical strength of chemical nickel/immersion gold plating.
Immersion Tin
The process creates a flat copper-tin intermetallic compound, a property that gives the same good solderability and good flatness as hot air leveling.
Advantages
Compatible with any type of solder.
Disadvantages
It should not keep for too long, and the process of tin dipping contains carcinogenic substances.
Gold Plating
It is mainly plated on nickel plating, as gold and copper, iron between the barrier layer. The main role is to prevent gold and copper, iron between the mutual diffusion.
Advantages
Strong corrosion resistance, good electrical conductivity, easy to weld. High-temperature resistance, with a certain degree of wear resistance
Disadvantages
Relatively high cost, uneven thickness, plated parts require electrical connections.